Velodyne, NavVis and Qualcomm Technologies Working Together to Build Smart Cities Faster
Mar 10, 2021 | By Velodyne Lidar
Velodyne Lidar, NavVis and Qualcomm® Technologies, Inc. are joining forces to help governments and solution developers create smart city applications that can improve infrastructure and public services, and enhance safety and quality of life.
Velodyne and NavVis, an Automated with Velodyne partner, are both members of the Qualcomm Smart Cities Accelerator Program, which connects cities, municipalities, government agencies and enterprises with an ecosystem of providers.
In discussing the Qualcomm Smart Cities Accelerator program, Sanjeet Pandit, senior director, business development and global head of smart cities, Qualcomm Technologies, said, "By working with proven expertise and deployed solutions, cities, municipalities, government agencies and enterprises can speed the realization of their smart cities visions. This program aims to foster a rich ecosystem of B2B collaborations that we hope will speed the development and deployment of smart cities solutions around the globe."
Smart Building Solution Showcase
Velodyne, NavVis and Qualcomm Technologies have created a smart building solution showcase on Qualcomm's award-winning Morehouse campus in San Diego to demonstrate how their technologies work together in a digital twin application.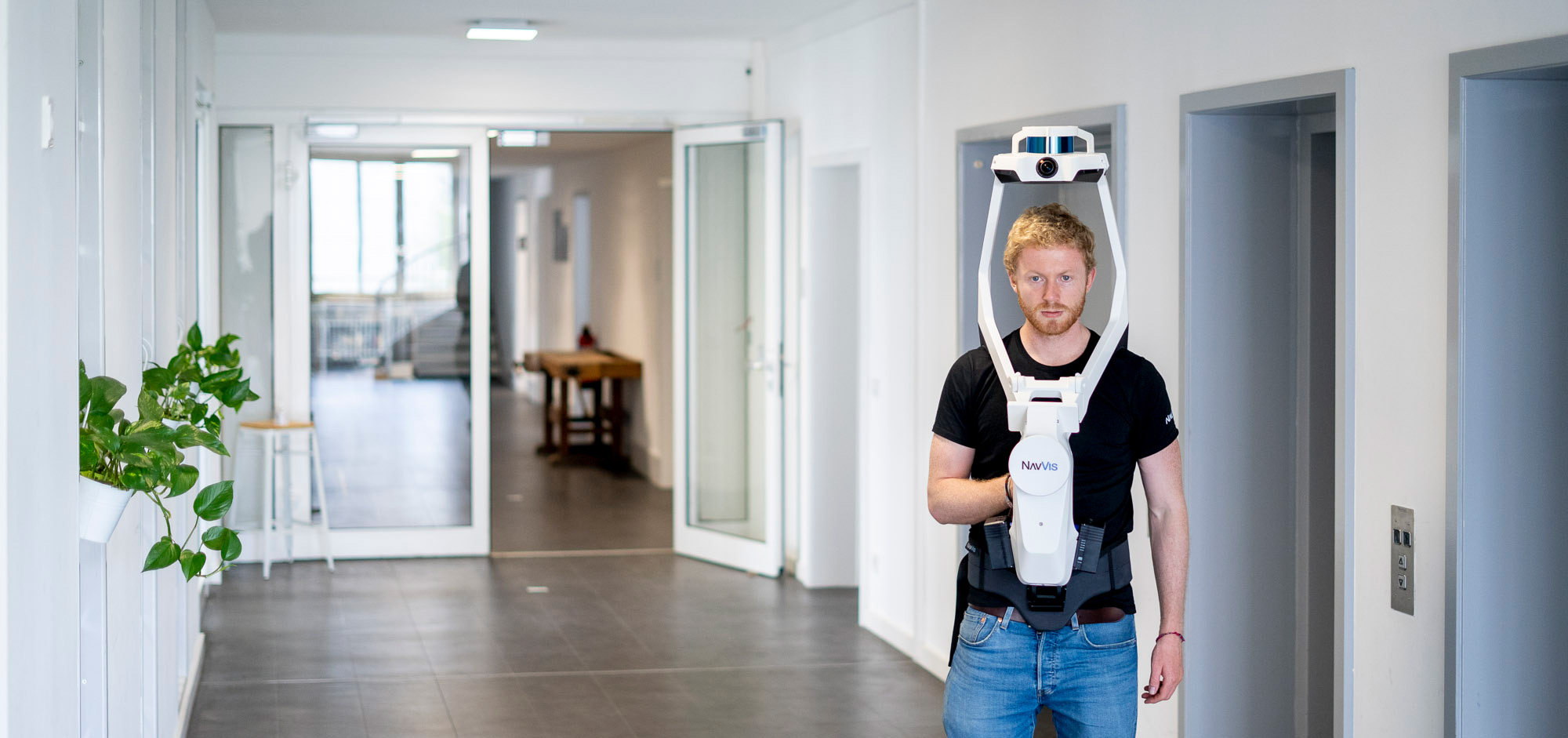 NavVis technicians scanned 220,000 square feet of the campus using the NavVis VLX wearable mapping system equipped with two Velodyne Lidar Puck LITE™ sensors to provide high-quality data capture of 3D measurements. NavVis VLX combines Velodyne image data with NavVis simultaneous localization and mapping (SLAM) technology to deliver survey-grade point clouds with a mobile device.
Using the NavVis smart building application, tasks like floor layout, repair and maintenance, and smart safety and security measures can easily be performed without the needs to be physically onsite. The system provides users a full 360-degree view and digital representation of the building. The model is highly accurate, allowing viewers to zoom into points of interest within the space.
NavVis software includes routing capabilities. In just a few clicks, it enables the digital building to deliver comprehensive directions to and from an individual's location to anywhere in the space via a web-based application.
Transforming Infrastructure and Public Services
Velodyne, NavVis and Qualcomm Technologies are working together to address opportunities created by our global environment becoming increasingly urbanized. By 2040, 65 percent of the world's population will be living in cities, according to Smart City Hub.
This urban growth is one of the factors driving interest in smart city solutions. These systems tap into advanced sensors, wireless networks and internet applications to hopefully improve government operations and connect with citizens and businesses in innovative ways.
Utilizing digital twin technology, equipped with lidar sensors, makes it easy to develop smart city solutions that help our communities to be more livable and sustainable. Digital twins are 3D replicas of the environment, which can include buildings, roads, public spaces and more.
Digital twins can be useful in construction, simulation, security and monitoring services. They can also be used to drive augmented reality (AR) and virtual reality (VR) applications. Digital twins may help people better understand a physical environment – even if they are geographically distanced from it – to make more informed decisions and provide new services.
Velodyne, NavVis and Qualcomm Technologies expect to continue to work together to support innovation in providing laser scanning professionals with fast, efficient tools for scanning buildings to deliver survey-grade results. This information can be the foundation for smart city applications that improve infrastructure and public services, with the goal of creating safer, more responsive environments for citizens.
Qualcomm Smart Cities Accelerator Program is a program of Qualcomm Technologies, Inc. and/or its subsidiaries. Qualcomm is a trademark or registered trademark of Qualcomm Incorporated.